Day 4, I paid a special visit to HAXLR8R. HAXLR8R provides seeding fund to entrepreneurs who are passionate about building hardware devices. It offers $25K funding, office space, access to equipment and tools to a team of startups, in order to help them convert great ideas to functioning and marketable final products. They are very conveniently located right next to Hua Qiang Bei electronics market. Since I've met the co-founders Cyril and Zach at the Maker Faire previously, I contacted them through email and they were generous enough to spare some time to meet me.
Here are two pictures I took at the lobby: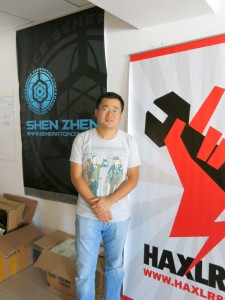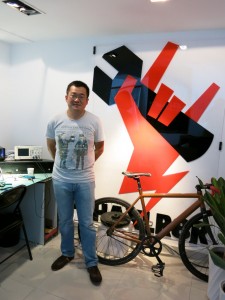 At the moment they are in the middle of a session with 10 teams. This session will conclude in November. Everyone seems to be very busy, working in deadline mode. I had a great conversation with Cyril about the background of HAXLR8R and his own stories living in China. Being located right next to Hua Qiang Bei makes it super convenient to rapidly prototype ideas — the components and parts you need are within walking distances. Not only electronic parts, but plastic parts, mechanical parts, enclosures, common or uncommon, can be easily made here. It's THE central place where physical goods are made.
Since everyone seems to be fully engaged in making their products, I didn't want to take too much of Cyril's time. After showing him my OpenSprinkler and SquareWear, I took off and headed to the next destination, which is to have lunch with Zach (a.k.a Hoeken). Zach is a fun guy and has been living in Shenzhen for more than two years. He is fascinated by the life in China, and his Mandarin is very good 🙂 At the moment he is in the process of moving to a new place. When I met him, he was visibly tired from late night working. We had a wonderful chat about his life in China, his passions, projects he worked on, the MakerBot (he was one of the original co-founders of MakerBot), the open-source culture, technical stuff, and so on. I felt very excited that we were brought together by this 'Make' connection — it's a great way to meet people.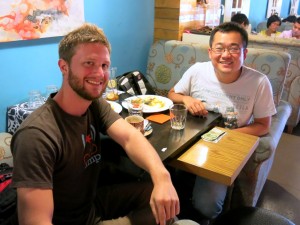 Feel like I am having a hard time keeping my eyes open now. Will go to sleep soon. Tomorrow is Saturday. I will take a day off to go to the beach with my friend. Will blog again on Sunday 🙂